See on Scoop.it – mrpbps iDevices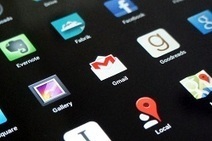 Just as we're getting our heads around 'Bring Your Own Device' (BYOD) and their usage in schools and in the workplace, there's a new trend on the block – now it's about Bring Your Own Application (BYOA).
John Pearce's insight:
Go on, you know it makes sense. I've for some time now mused over the opportunity that this 'age of the app' could enable but may ultimately be missed. Not only is it democratising the development of ways that devices and computers might be thought of enbling by encouraging individuals to develop solutions to problems, (even those we didn't know we had). This in contrast to traditional software developers and marketers, (albeit that most apps have to go via the filters of the app stores). What this is enabling is an increasingly diverse way of looking at the way we 'work' with devices. Instead of the monoculture of Microsoft or Adobe or Apple we can access and work with an an ever expanding ecosystem where new apps are developing and 'mutating' all the time. Unfortunately most traditional education promotes monoculture via device, platform and/or instruction. The BYO be it 'Device', 'Technology' or other iteration gives schools the opportunities to break this perceived stranglehold, the challenge will be whether they will embrace it. The rewards may be something which moves education towards more personalisation where students are encouraged to find apps which best suit their needs or intuitions, as opposed to those which the school or teacher deems are best.
See on www.innovatemyschool.com